After 5 days of fierce racing, America's Bora Gulari convincingly won the 2009 CST Composites Moth Worlds. The event was sailed on "The Gorge" at Cascade Locks, USA. Bora's excellent boat handling skills combined with smart tactics and great boat speed were the key factors in his win. With 8 firsts from 15 races sailed, Bora's extensive training program paid dividends.
Fellow CST team sailor and current 49er world champion Nathan Outteridge finished in 2nd position. Nathan took the early lead in the regatta, but couldn't stop Bora's charge towards the end of the series.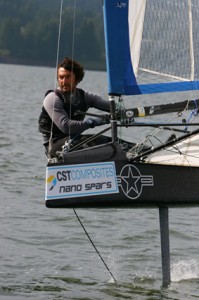 The pair used the latest range of CST Moth spars including high modulus masts and booms as well as the new range of Nano Spars used by Nathan.
"Having the major naming rights for the 2009 CST Moth Worlds has gone hand in hand with the performance of the CST sailing team positioning 1st and 2nd. This has confirmed the performance advantage of our products gained through continuous development with these top Moth guys. We look forward to supporting the class at future events in a number of different ways," said CST's Production Manager C