Nathan Outteridge has come away with a win at recent Australian Moth Championship, sailed from Corio Bay in Geelong. The CST team sailor and 2008 Olympian, used CST's new High Modulus spars on his stock standard Bladerider x8 sporting a North Sail.
CST spars vere dominant at the event with 8 out of top 10 using new HM series masts and booms.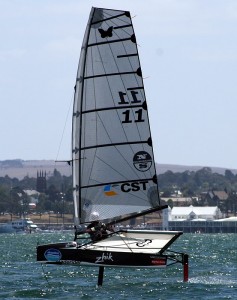 Photo by: Bladerider
Current 49er World Champion, Nathan started sailing Moths only 6 weeks prior to the major event and has amazed everybody just how quickly he adjusted to sailing on foils. The win at Aussie Nationals is perfect preparation for the Moth World Championships to be sailed later this year at Cascade Locks, Oregon USA.