Next stop … U.S.A.
CST Composites is going global this year with a joint venture with U.S. firm Optimum Composite Technologies.
After 26 years, the move positions CST on the path as a leading player in the global green hydrogen supply chain.
The partnership complements both companies' manufacturing abilities, giving CST Composites access to Optimum's technical expertise and Intellectual Property (IP) in carbon fibre pressure vessels. It also means greater access to U.S. markets for its high quality, filament-wound composite tubing by leveraging Optimum's U.S. facilities, customer base and supply chain.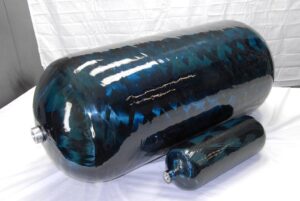 CST Composites will expand its core capabilities in designing and producing Composite Pressure Vessels (CPVs) and other applications.
The Australian Government is committed to Australia being a major hydrogen player by 2030.
CST growth plans include establishing Australia's first hydrogen vessel manufacturing facility, which will service emerging and growing demand from the defence, space, transport and energy sectors.