It has been a massive year here at CST Composites with 12 National and 6 World title wins to our name. Out of those six world titles some of them have come from the prestige classes as well as leading edge skiff technology such as; Moths, I 14's, A-Class Cats, 12ft Skiffs and the Contender class. Our high standard and quality products are not only evident in those classes but with 12 National wins in: 12ft skiffs, B14's, I 14's, Cherub, Flying Dutchman, Javelin, NS14, Skate and the Vee Ess. Here at CST composites we are proving to be the leading supplier for high quality lightweight and top performance spars.
 12 Years ago CST started pioneering with filament wound tubing for masts in small dingys and skiffs. By using our unique process we have supplied the fastest skiffs all over the world with flexible, responsive tapered masts and beams that have outperformed the competition. Managing Director, Clive Watts had the foresight to see that filament winding could provide tube with an automated process, high quality and repeatability that sailors look for in a product. This was the way of the future compared to pre-impregnated fibers that were traditionally roll wrapped and could not compete with filament winding.  The current haul for this year shows that we are the best providers of filament wound lightweight, high performing masts and beams.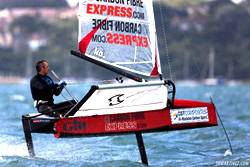 To move with development times we have introduced our new range of high modulus masts. These new masts are filament wound using epoxy resin and "High Modulus" carbon fibre to give responsive, lightweight and tough masts. These masts are smaller in diameter and lighter in weight. Generally mast stiffness has increased with square top mains and have been individually developed with each of the classes.
With all the new developments CST Composites is heading into an exciting 2009.  By the end of January machine number six will be online, which can wind four times faster whilst still maintaining our high quality. The entire factory is in the middle of a retro-fit with a second level being added enabling us to expand our fabrication and pultrision capabilities, this includes the recently launched sail battens for yachts and skiffs.
We continue to build our filament winding infrastructure as we aim to provide the best quality, highest performance and economical spars on the market today.