The J.J. Giltinan Championships sailed on Sydney Harbour saw one of the closest finishes to date, decided meters before the finish of the last race.
Early series leader Active Air-2UE skippered by Matt Searle, sailed a very consistent regatta finishing only 1 point behind the eventual winner Southern Cross Constructions (Euan Mc Nicol).
The series was wide open coming into the final Heat 7, with any one of the top 3 boats in with a chance.
Active Air-2UE were in a dominant position early in the race as Southern Cross Constructions were 4 minutes behind, after a disastrous start. With 2 laps to go Active Air-2UE still looked strong, with Southern Cross doing everything they could fighting their way through the fleet. The light and fickle breeze saw 90 degree shifts, allowing Southern Cross to make big gains on the leaders with a lap to go.
During the last downwind run, the title was still open. Active Air-2UE had to finish 2nd and get Gotta Love It 7 between them and Southern Cross. It all looked promising until the young team on Panasonic pipped them on the finish line to get 2nd. Active Air was relegated to 3rd, and Southern Cross climbed to 4th. One place behind Active Air-2UE and enough to give them the series.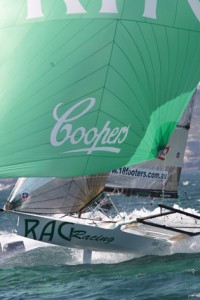 Rag and Famish hotel also sported the latest rig from CST Composites and showed some good form winning the NSW Championship before the start of J.J. series. They looked strong after 4 heats, but slipped back towards the end of the regatta, to finish 5th overall.  CST rigs were also used by Smeg, SLAM and Pure Blonde all finishing inside the top 10.