Strong fleet of 109 boats contested the International 14 class Worlds on Sydney Harbour. The regatta hosted by Manly 16ft Skiff Sailing Club, required a split in fleet to Gold and Silver divisions, due to the high number of participants.
The series was sailed in a range of conditions over a 7 race format and eventually won by Sydney based Brit Archie Massey and Australian crew Dan Wilsdon. The winners on board Carbon Fibre Express sponsored boat were dominant in all conditions with superior tactics, boat handling and excellent downwind speed.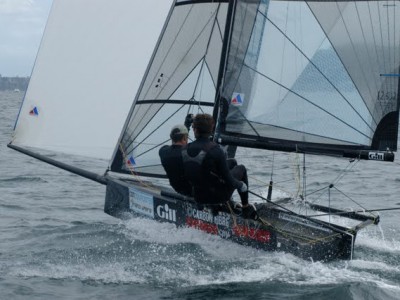 The pair scored four 1st placings, a 2nd and 6th to win by 11 point margin over Roger Gilbert and Ben McGrane with Mark Krstic and Andrew Wilson in 3rd place.
This is also Archie Massey's 2nd consecutive world title crown, something that has not occurred before, in the class that has heritage dating back to the 1930s
"We did a lot of development with Archie and Dan leading up to the series. Particularly with his new CST HM2 Mast and with Dave Alexander doing sail development. It is fantastic to see the guys win the series," said CST Composites General Manager Chris Dixon.