A busy lead up into the 2011 J.J Giltinan Championship saw a range of new products being released for the 18ft skiff class. The most significant probably the release of new mast sections for both no.1 and no.2 rigs as well as new rectangular booms. The development included 3D Solidworks design and in house manufacturing of new mandrels. All this was achieved in a very short time frame to allow enough on water testing in time for the championship.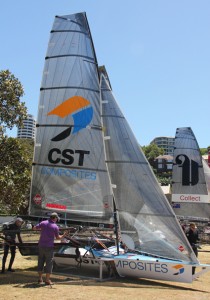 The development was driven by CST's 18ft skiff guru Chris Dixon and trailed on CST Composites 18ft Skiff skippered by Howie Hamlin. Howie finished the regatta in respectable 5th place showing the potential of the new products with minimal testing. The new masts are an evolution of last year's design and have been developed to suit the latest sail trends and ever increasing working sail area. The result is substantial increase in stiffness over the 2010 rigs while keeping weight down to a minimum.
The new high modulus 130x55mm rectangular carbon fibre booms are also significantly stiffer than last year's product. "Increase in mast stiffness called for stiffer booms as well, so going to a rectangular section seemed like the obvious choice. We have now done this for most of our dinghy classes as it has allowed us to maximise the stiffness in the Y axis without the added weight that would have been experienced with the oval section. Rectangular booms have been used in high performance yachts for years, so I guess it was only a matter of time before this development made its impact on the dinghy and skiff arena," said CST's GM, Chris Dixon.
In order to bring the weight of some of the skiffs down to minimum, CST also produced a set of intermediate modulus carbon fibre wings for the J.J.Giltinan winning boat Gotta Love It 7. 2kg weight reduction over the conventional standard modulus carbon wings was achieved, while maintaining the same stiffness characteristics.
With the next major regatta being the European Championships, we are confident that with more time on the water CST Composites 18ft skiff will be one of the hot contenders.