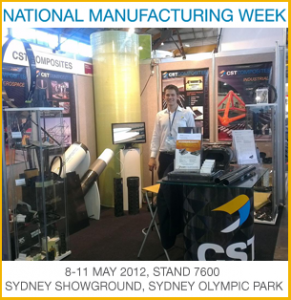 CST Composites will be exhibiting at National Manufacturing Week, Stand 7600, at Sydney Showground, Sydney Olympic Park from May 8 through 11.
We invite you to visit us at our stand and discuss current technologies and any applications you may have for filament wound, pultruded or fabricated composite products. In attendance will be a number of our staff, including our Managing Director, Clive Watts, our General Manager Chris Dixon and our Design Engineer, Nathan Howell.
CST Composites will take the opportunity to showcase its capabilities in filament winding, pultrusion and composites fabrication. In addition we are proud to announce that we will be sponsoring the Metals and Composites Zone at the Exhibition. On display will be a number of our filament wound, pultruded and fabricated parts and customer products, including the recently completed filament wound parts of a ground demonstration article for application on the International Space Station. CST's involvement in conjunction with our client was for the design, production and machining of large diameter filament wound tubes for this application.
For the first time in Australia, the company will demonstrate its capabilities in the design, manufacture and production control via its Manufacturing Enterprise System. This system coordinates its computer driven manufacturing equipment and provides reproducible parts along with statistical information to ensure quality and performance are at the forefront of production.
Please use this form to register your attendance at NMW 12. If you would like to arrange an appointment, contact us.
We look forward to seeing you there.