It's been 10 years since CST composites released the one piece M351. This mast was a revolution at the time, cutting the mast diameter from 50mm to 40mm. The Moth Worlds 2008 were won by Australian John Harris at 'Windy' Weymouth in July 2008.

The class has come a long way since then and we at CST are stoked to support the class and excited to celebrate the recent 8th victory with CST spars. Below is a breakdown of CST's victories over the last ten years.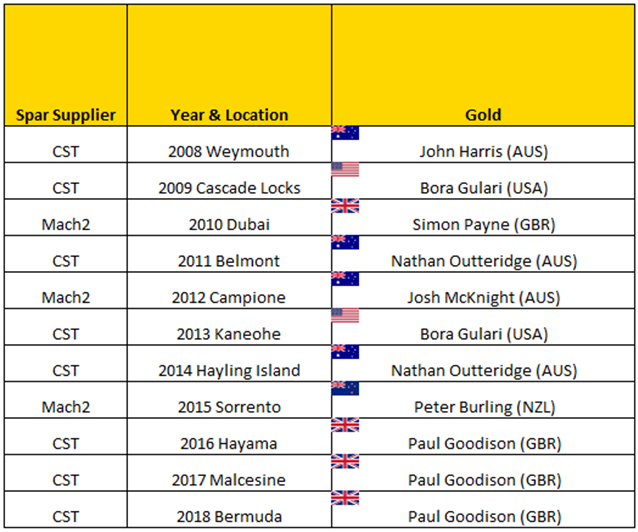 To celebrate this latest world championship win we will be releasing the production "Deck Sweeper" mast. The world championship winning mast and boom are now available:
Deck Sweeper DS1 Mast: Used by Paul Goodison to win the 2018 worlds and is targeted at the top end of the fleet.
Deck Sweeper DS4 Mast: This mast is a little stiffer and easier to sail downwind and will help the good sailor become better.
Tapered Bent Boom: Also used by Paul Goodison to win the 2018 worlds.
The Elite range of masts is still available and suitable for conventional sails which are still fast and current. The most popular being the Elite 21, Elite 22 and Elite 24.
Stock is available through: